Low Hanging Fruit
In general, managed print services offers a number of benefits depending on the size of the organization and the sophistication of its IT team.
Time Savings for IT or Facilities Management Teams: Managed Print Services eliminates the need of a dedicated help desk personnel to monitor devices with automated processes to ensure 100% up time of an company's printing and imaging fleet. Staff need not worry about toner yield, especially under a Cost Per Impression program, and enjoy reduced Inventory management on supplies and parts. Scanners on most Multi Function Devices are covered.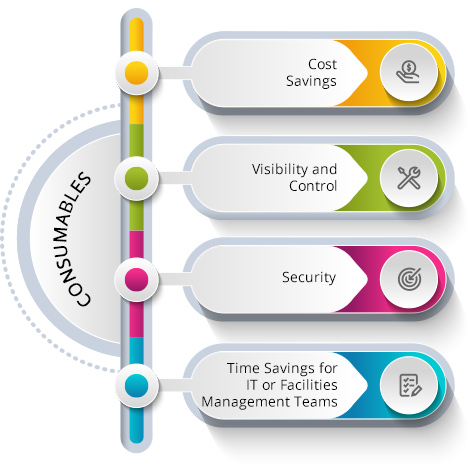 Cost Savings: Organizations only pay for that they print. The upfront costs of setting up an inventory of toners and parts are eliminated, and procurement costs are low as the model reduces the number of imaging devices through optimization.
Visibility and Control: Managed Printe Services provides complete visibility and control of an organization's imaging fleet with monthly or quarterly reports help monitor use and abuse of the business tools as part of a broader asset management tool.
Security: With complete knowledge, visibility and control on the printing and imaging fleet, organizations can control unauthorized use, eliminate storage of data on the device, and secure transmission of data to all devices.