More than managed print services
Today's printers, copiers and imaging devices are smart computers with processors, memory, hard drives and proprietary operating systems and applications. Managed print services must now address the security challenges that come with these flourishing endpoints and the evolution of document management, as well as impact of Bring Your Own Device (BYOD) and the Internet of Things (IoT). A "toner and drum" approach to managed print services is no longer enough.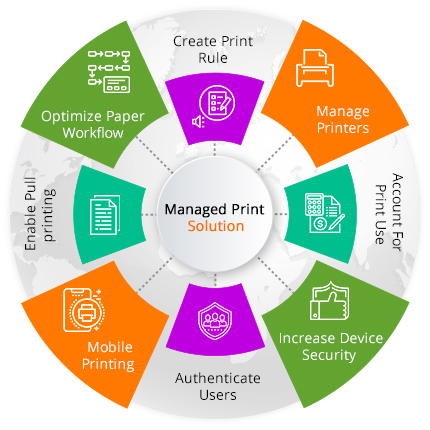 Since sensitive information can now be stolen from copiers and printers and put organizations at risk, they need a technology partner who can provide managed print services with intelligent document management that aligns with their IT strategy and puts security top of mind.
Secure document management with smarts
PrinterLogix's MPS360 is a holistic approach to managed print services and document management as part of our customers' broader managed IT strategy. It is a completely managed and secure technology-as-service approach that comprises products, transition services, proactive monitoring, security, supplies fulfillment, software and hardware upgrades, and onsite and remote support backed with custom Service Level Agreements (SLAs).
PrinterLogix is aligned with managed IT services firm, so we apply security to managed print services as rigorously as we would with any other deployment of software and hardware by leveraging enterprise-class technology including:
Continuous monitoring:

With run-time intrusion detection and

connection inspection

, we can detect and stop attacks within memory or outbound requests and force a reboot to

begin

repairs.
Intelligent BIOS loading:

In reboot,

devices

are able to

detect and prevent the execution of malicious code and self-heal the BIOS.
Checking settings:

Our

fleet management solution

checks and fixes device security settings in a reboot.
Whitelisting:

Firmware

is checked

to make sure only authentic code is loaded into memory and will reboot and notify IT if compromised.
In addition to robust security, PrinterLogix's MPS360 offers many benefits for small and medium-sized enterprises:
Time savings for IT or facilities management teams:

Managed print services

eliminates

the need of a dedicated help desk personnel to monitor devices with automated processes to ensure uptime of a company's printing and imaging fleet. Staff need not worry about toner yield

and enjoy reduced inventory management on supplies and parts.
Cost Savings:

Organizations only pay for that they print. The upfront costs of setting up an inventory of toners and parts

are eliminated

, and procurement costs are low as the

MPS360

model reduces the number of imaging devices through optimization.
Visibility and control:

Managed printer services provides complete visibility and control of an organization's imaging fleet with monthly or quarterly reports help

check

use and abuse of the business tools as part of a broader asset management tool.
PrinterLogix's MPS360 helps customers manage all their printing and imaging devices under a cost-per-impression basis, enabling them to move to an OPEX model from a CAPEX model for printing technology and benefit from intelligent document management that improves productivity and workflow.
Enhanced
, secure
managed print services
PrinterLogix's MPS360 includes everything in a standard managed print services offering enhanced with a "white glove," pay-as-you-go approach and advanced document management features. And since you no longer need to manage hardware and software, MPS360 cuts transition and upgrade costs because you only pay per impression with a SLA that reflects your specific business requirements. In addition to predictable costs, it provides proactive security with annual audits, and helps you improve workflows to boost productivity and efficiency.