Most IT staff don't want anything to with printers—it's a distraction from more strategic projects and yet another item on their overwhelming to do list. That's why a managed print services partner is a better option for most organizations.
But although a managed print services-focused partner is better suited to keep your fleet of print and imaging devices running efficiently and cost-effectively, you still want one aligned with an experienced managed IT company. It will more likely have the capabilities necessary for adequately maintaining the smarter printers, copiers and scanners spread across your organization.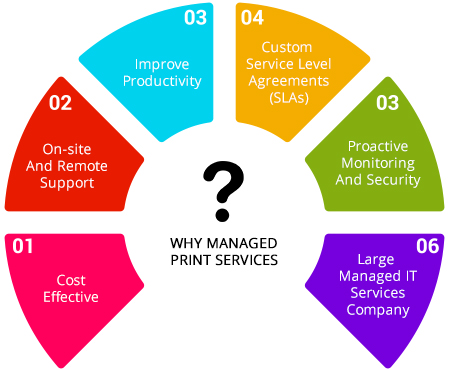 Why IT people hate printers

Your department doesn't want to be fixing printers because it usually means having to physically look at the device.
Whether it's an application error, network connectivity problems or a printing malfunction, the causes are often mechanical. Not only does the IT person have to make a trip to the printer, there's usually a call to a vendor to get it fixed. It could be the actual manufacturer of the device, or a third party. That point of contact must be managed, warranties checked, and a decision must be made whether the device is worth fixing or should simply be replaced.
All these tasks are a distraction from what your IT person should be working on—an important software implementation that will improve collaboration and productivity, or security patches to keep sensitive business information protected. Even more reason to look at a company that's focused on managed print services.
The right people for the right printer
It's estimated that near one-quarter of help desk calls are related to printer problems. Outsourcing management of your printing and imaging devices will give your IT people a break, reduce costs and improve productivity.
But not all managed print services companies are created equal. You should expect more than a "toner and drum" approach. Beyond keeping ink flowing, you should also expect transition services, proactive monitoring, security, supplies fulfillment, software and hardware upgrades, and on-site and remote support backed with custom Service Level Agreements (SLAs) that align with your business needs.
Essentially, people not being able to print should never disrupt your business and keep them from meeting deadlines or lowering their overall productivity.
But as much as malfunctioning printers are usually a physical problem, your entire print and imaging fleet are more than just devices that scan documents and spit them out. Today's printers and scanners are smart, connected devices. Like the Internet of Things (IoT), they are connected endpoints, each representing of doorway to your networked infrastructure.
That makes them a target. This means IT isn't fully off the hook when it comes to your print environment.
Managed print services must align with IT
As much as a managed print services partner is better equipped than IT to keep the toner and pages flowing, your printers, copiers and other imaging devices are now smart devices with processors, memory, onboard storage and proprietary operating systems and applications.
That means your managed print services should be aligned with your broader IT strategy. Better still, it should be part of larger managed IT services company as they can better help you safeguard the information on these smarter devices with robust endpoint security. They can ensure you have complete control of your sensitive data by eliminating storage of data on the device, provide 24/7 monitoring that will detect malicious activity, and secure transmission of data to all devices as part of your overall network security.
Your printing and imaging infrastructure has its own characteristics that demand specific skills and expertise best suited to a managed print services company. But the nature of these modern printers and scanners mean IT is never out of the picture. Both groups must be on the same page if you're to stay productive and secure at the same time.