It's not hyperbole to say the cloud has changed everything. Data management, application delivery, and business processes have all been transformed in recent years by the Software-as-a-Service (SaaS) paradigm.
Your document management system (DMS) is no exception. The idea of a putting a DMS in the cloud is gaining traction due to digital transformation efforts as companies look to digitize paper assets and workflows. It also shares many of the benefits offered by one of the first functions to get to outsourced to the cloud—data backup and disaster recovery. And like those functions, document management enjoys more features and functions thanks to cloud computing.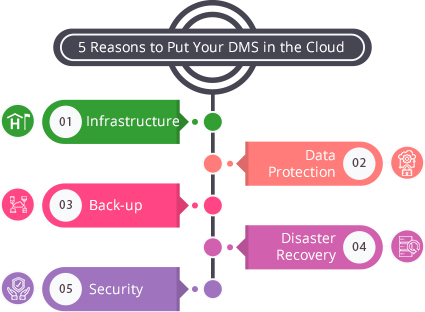 A SaaS-based, cloud-hosted DMS offers several compelling benefits, especially for organizations with limited IT staff and resources:
Reduced cost: Moving your DMS to the cloud means you're not having to invest in the infrastructure and support resources to run it yourself—you're moving from a CaPEX model to an OpEX model. Payment is usually per user, which means you only pay for what you need—just like cloud-based backup—and it includes any upgrades and maintenance.
Infrastructure-on-demand: Because it's in the cloud, not only you do you not need to worry about setting up the hardware and networking to support document management, but you can scale up down as your business requires, and you don't need to devoted IT staff to implement and manage software updates.
Better security, visibility and accessibility: The permissions and limits granted to users are fully customizable based on their roles. Who has touched each document and what they did to it is logged to create an easy-to-follow audit trail. Data is encrypted wherever it's stored and whenever it's in transit. And documents are always accessible through an Internet-connected device, enabling easer document sharing and collaboration—in real time, if need be.
Privacy and regulatory compliance: Whether you need granular track of official paperwork to meet government regulations or guarantee privacy of Personally Identifiable Information (PII) under legislation such as the Personal Information Protection and Electronic Documents Act (PIPEDA) and the General Data Protection Regulation (GDPR), a cloud-based DMS provides you with an architecture that helps you understand how information is collected, stored and moved around so you meet regulatory requirements without onerous management or specialized expertise.
Lower carbon footprint: Moving your DMS to a SaaS model is better for the environment too because a cloud provider can scale up more economically by sharing the cooling and energy needs of multiple servers, reducing storage space, and using less local energy.
Cloud-based DMS is part of a bigger picture: Given that everything is moving to cloud, on-demand, it should be a no brainer to put your DMS there too. Not only does a SaaS model offer enhance the benefits of your DMS on its own, but you can realize even more cost savings, efficiencies and business capabilities when it integrates with other cloud-based applications such as your enterprise resource planning (ERP) system or a customer relationship management (CRM) system.
Because a DMS works better as a part of a large ecosystem and operates most effectively as part of a managed print services infrastructure, you should look for a provider that can align your DMS strategy with your endpoint security and your overall IT environment.